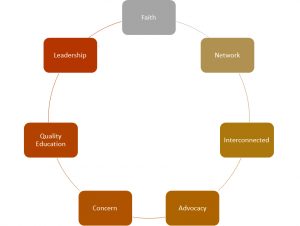 Faith
A Community of faith that lives Gospel values and cherishes each individual  regardless of faith, race or ethnicity.
Network
A vibrant Network, committed to the Edmund Rice mission, both locally and globally.
Interconnectedness
Promoting an awareness of our interconnectedness with the planet, the environment and with creation
Advocacy
Working for social justice and human rights through advocacy.
Concern for the marginalised
An Education that places equality, fairness and support for the marginalised at its heart.
A Quality Education
A commitment to both academic excellence and personal development in a safe, welcoming environment, while respecting the uniqueness of each individual student
Leadership
A commitment to developing the leaders of the future who will make a positive difference in their communities and be the good news in the lives of others.